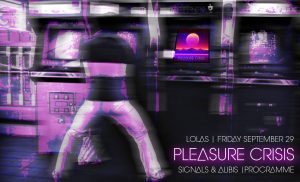 September 29, 2017
w/ Pleasure Crisis, Programme
SIGNALS AND ALIBIS :
Nominated for the Ft. Worth Weekly Best Avant Garde/Experimental award, duo Signals and Alibis produce a combination of electronics and indie shoegaze. Follow them on Facebook at Signals and Alibis.
PLEASURE CRISIS :
Pleasure Crisis draw on influences as retro as Missing Persons and Berlin and as modern as The Sounds and Chrvrches to produce a sound that could best be described as fast forwarding a Miami Vice soundtrack to the future. Follow them on Facebook at Pleasure Crisis.
PROGRAMME :
Electronic art music trio also nominated for a Fort Worth Weekly Music Award creating a narrative of dreamy soundscapes. Follow them on Facebook at Programme.