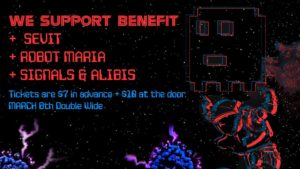 March 8, 2019
w/ SEVIT, Robot Maria
Brent Regier, our beloved front man of isopod, needs your help.
Last year he was diagnosed with chronic health problems as the result of toxic mold growing in his apartment that his landlord failed to address. He has been undergoing extensive hyperbaric oxygen treatments to alleviate his symptoms but needs assistance with additional medical treatment, mold remediation and legal expenses.
So what can you do?
Easy! Come to Double Wide on Friday, March 8th for a night of great music brought to you by SEVIT, Signals and Alibis, and Robot Maria. All proceeds will go to Brent Regier's GoFundMe. Tickets are $7 in advance or you can pay $10 at the door.
Just to sweeten the deal even more we'll be adding DJs, raffle prizes and more so watch this space.